CNC Machining Services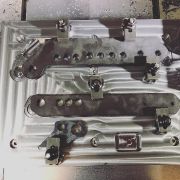 Tubela offers precise and reliable CNC (Computer Numerical Control) machining services. We've been in the manufacturing industry for over 78 years, we ensure all of our CNC services are efficient and on time.
Precise CNC Machinery
The process of CNC machine services involves the automated removal of a metal component from a larger block of material. The process is very accurate and precise, due to being controlled by a customised computer programme and motorised machinery and tools.
At Tubela, our CNC machines and services are accurate and efficient.
Flexible & efficient CNC machines
Our CNC machining services can supply one-off prototypes to continuous batch runs. Our CNC machining services include CNC Milling machine & CNC Turning machine.
Production is suitable for a number of metals and plastics, such as Stainless steel, Steel, SG cast iron & Aluminium.
Our quick service and manufacturing techniques ensure you'll have your components quickly.
We can also apply a number of different finishes to the metal, such as smoothed, anodised, electropolished or brushed. Get in touch for more information about or CNC online machining services and for a quote.
Contact us now to find out more
What is a pipe cutter used for?
Pipe cutters are commonly used by plumbers and other trades to cut the pipe to the desired length. A pipe cutter is a more accurate means of cutting pipe, rather than sawing, producing a smooth and clean cut.
Can a pipe cutter cut steel pipe?
There are a number of pipe cutters available which are capable of cutting steel pipe and other metals such as copper. Pipe cutters are capable are powerful, rigid and accurate, and are able to cleanly and easily cut steel pipe.
How does a pipe cutter work?
A pipe cutter uses a sharp cutting wheel, which slowly rotates to cleanly cut through a metal pipe. The pipe cutter rotates around the pipe to cut the metal. Softer metals like copper and aluminium are easier and quicker to cut than steel.
What is a pipe notcher?
A pipe notcher can accurately apply round cuts in piping and tubing, up to angles of 60 degrees. Tubes and pipes can then be fitted and welded to one another. The holes are cut using round cutters or milling bits.